Round cable clip
For use with satellite cable and pump cable
Material: made from PE (white,grey)
Trail: elasticity and shock resisting, inserting type,nail attached in clips
Directions:Place clip over cable and hammer nail gently,ensuringing that it is square in the cable clip. When fixing to hard brickwork,hammer the nail into a joint wherever possible to ensure a secure fitment.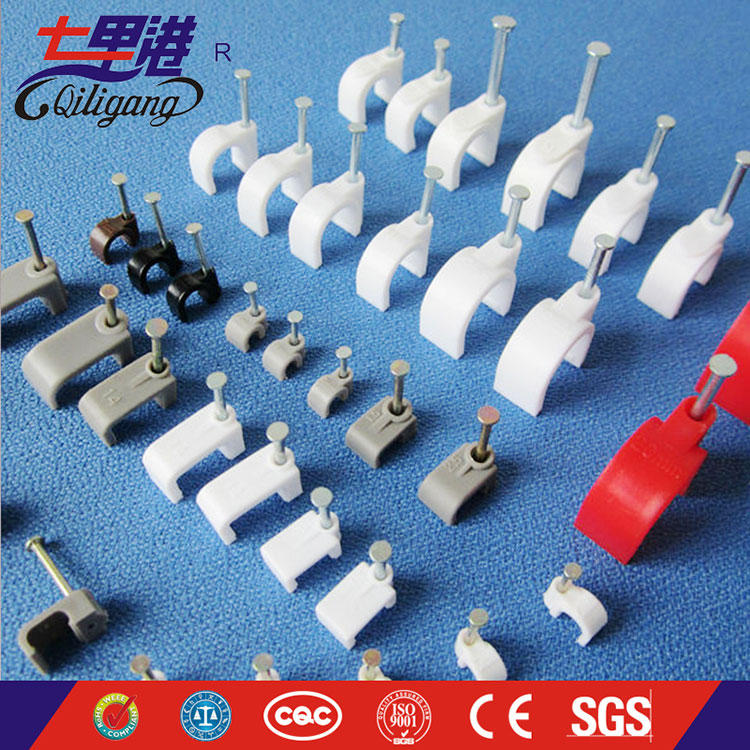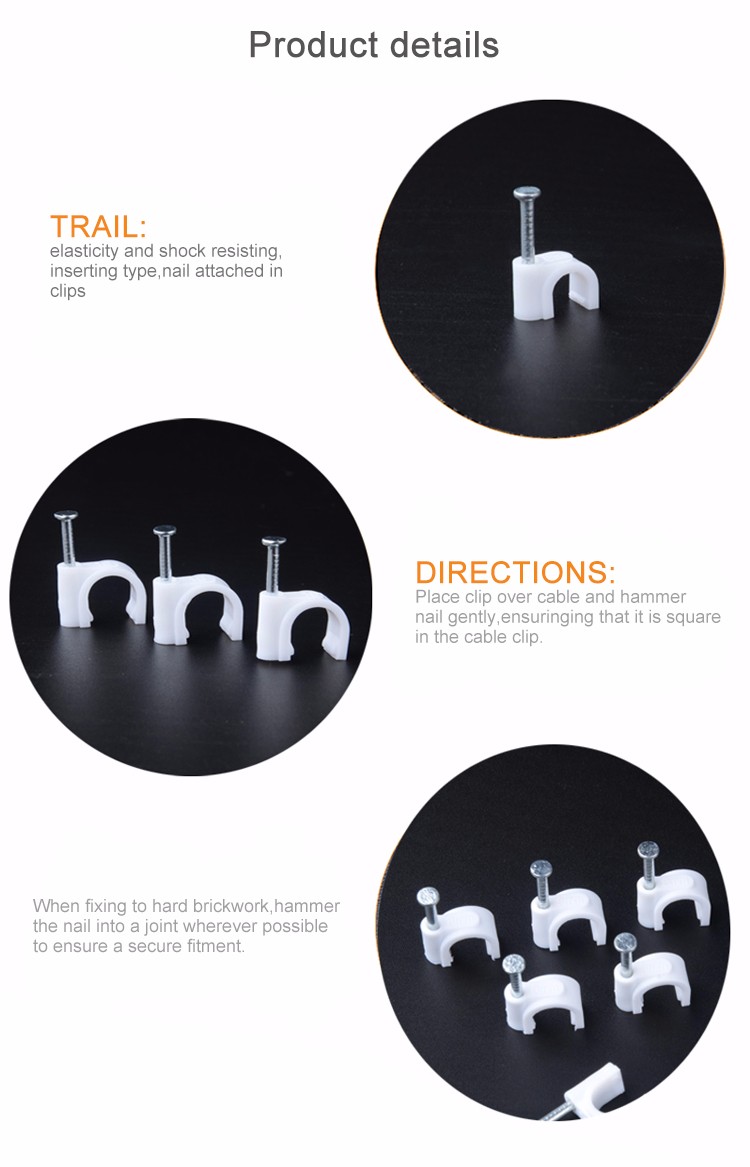 We strongly believe the important of maintaining high quality in all our products. We have brought in advance quality tests as to ensure strict quality control before delivery. We have adopted advance date management system to monitor and to supervise all individual process through our the whole production lines of the product with traceable data in details and recorded at all level . Our product are fully comply with the standard such as CE,ISO9001,ROHS,PAHS and other well recognized stand and requirement.
K-Type Round Cable
| | | | | | |
| --- | --- | --- | --- | --- | --- |
| Item No. | H1(mm) | H(mm) | W (mm) | Nail Size | Color |
| QLKS-4MM | 6.6 | 4.2 | 4 | 2.5×18 | White |
| QLKS-5MM | 7.6 | 5 | 5 | 2.5×20 | Grey |
| QLKS-6MM | 9 | 6.6 | 6 | 2.5×20 | Black |
| QLKS-7MM | 11 | 7.5 | 7 | 2.5×20 | Brown |
| QLKS-8MM | 11.5 | 8.5 | 8 | 2.5×20 | Dark Grey |
| QLKS-9MM | 12 | 9 | 9 | 2.5×25 | Milk |
| QLKS-10MM | 13.4 | 10.4 | 10 | 2.5×25 | |
| QLKS-12MM | 16 | 12.3 | 12 | 2.5×27 | |
| QLKS-14MM | 20.5 | 15.6 | 14 | 3.0×35 | |
| QLKS-16MM | 21.7 | 17 | 16 | 3.2×38 | |
| QLKS-18MM | 17.5 | 22.4 | 18 | 3.2×38 | |
| QLKS-20MM | 18.5 | 23.5 | 20 | 3.2×38 | |
| QLKS-22MM | 23.1 | 27.8 | 22 | 3.2×40 | |
| QLKS-25MM | 24.1 | 29 | 25 | 3.2×45 | |
| QLKS-32MM | 33.5 | 40 | 32 | 3.2×56 | |