Material: Nylon 66,certificated by UL.
Description: Heat resisting, erosion control, insulating well and not apt to age.
Operating Temperature:-40`C~80`C
Color:white(natural color),UV-black. Red,yellow,green,blue,other colors are available as requested.
Usage:For tidying wire and cable installations
Certificates: ISO9002,CE,ROSH, PAHs.
Packing:100pcs/plastic bag (general export packing),blister packing, plastic bags with the color label, other packing are available as customers' request.
Remark: we also accept the work such as constructing mould.printing logo on cable ties,designing special packing.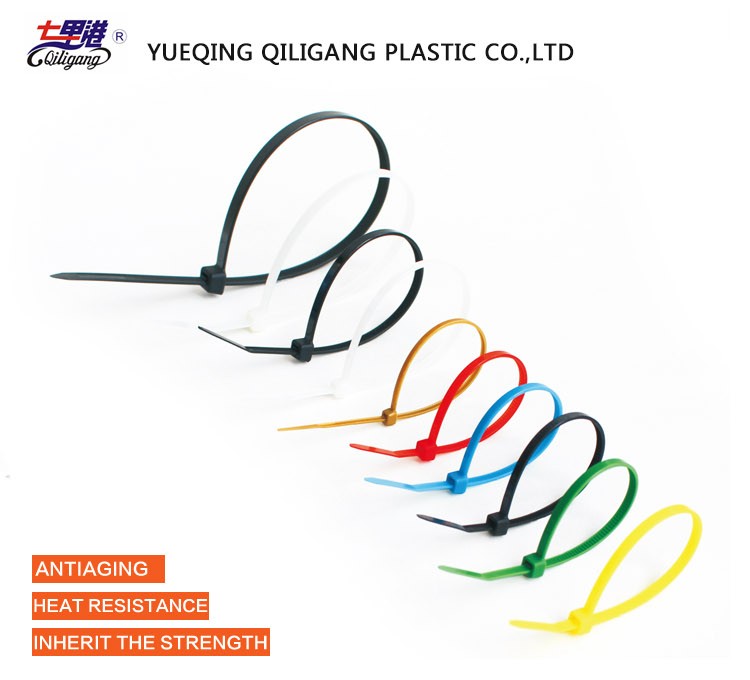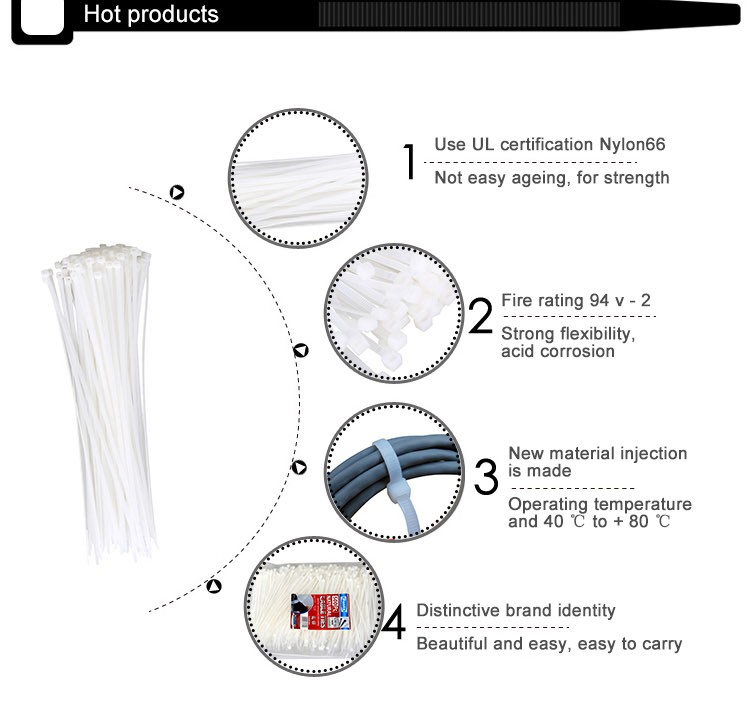 Parameter table
(L)
(W)
Bundle Dia
Min Tensile Strength
Item NO.
Inch
mm
mm
E(mm)
LBS
KGS
QLS-3×60
23/8"
60
2.5
2-11
18
8
QLS-3×80
33/16"
80
2.5
2-16
18
8
QLS-3×100
4"
100
2.5
2-22
18
8
QLS-3×120
43/4"
120
2.5
2-30
18
8
QLS-3×150
6"
150
2.5
2-35
18
8
QLS-3×160
61/4"
160
2.5
2-40
18
8
QLS-3×200
8"
200
2.5
3-50
18
8
QLS-3×250
10"
250
3.0
3-65
18
8
QLS-3×300
12"
300
3.0
3-80
18
8
QLS-4×100
4"
100
3.5
3-22
40
18
QLS-4×120
43/4"
120
3.5
3-30
40
18
QLS-4×150
6"
150
3.5
3-35
40
18
QLS-4×160
61/4"
160
3.5
3-40
40
18
QLS-4×180
7"
180
3.5
3-42
40
18
QLS-4×200
8"
200
3.5
3-50
40
18
QLS-4×220
8 5/8"
220
3.5
3-58
40
18
QLS-4×250
10"
250
3.5
3-65
40
18
QLS-4×280
11"
280
3.5
3-70
40
18
QLS-4×300
12"
300
3.5
3-80
40
18
QLS-4×370
141/2"
370
3.5
3-102
40
18
QLS-5×120
43/4"
120
4.6
3-24
50
22
QLS-5×150
6"
150
4.6
3-35
50
22
QLS-5×180
7"
180
4.6
3-42
50
22
QLS-5×200
8"
200
4.6
3-50
50
22
QLS-5×250
10"
250
4.6
3-65
50
22
QLS-5×280
11"
280
4.6
3-70
50
22
QLS-5×300
12"
300
4.6
3-82
50
22
QLS-5×350
14"
350
4.6
3-90
50
22
QLS-5×380
15"
380
4.7
3-102
50
22
QLS-5×400
16"
400
4.7
3-105
50
22
QLS-5×450
18"
450
4.7
3-130
50
22
QLS-5×500
20"
500
4.7
3-150
50
22
QLS-5×550
22"
550
4.7
3-160
50
22
QLS-8×150
6"
150
6.8
3-33
85
38
QLS-8×180
7"
180
6.8
3-42
85
38
QLS-8×200
8"
200
6.8
3-50
85
38
QLS-8×250
10"
250
7.5
4-63
120
55
QLS-8×300
12"
300
7.5
4-82
120
55
QLS-8×350
14"
350
7.5
4-90
120
55
QLS-8×370
141/2"
370
7.5
4-98
120
55
QLS-8×400
16"
400
7.5
4-105
120
55
QLS-8×450
18"
450
7.5
4-118
120
55
QLS-8×500
20"
500
7.5
4-150
120
55
QLS-8×750
30"
750
7.5
4-220
120
55
QLS-9×400
16"
400
9.0
8-105
175
80
QLS-9×450
18"
450
9.0
8-118
175
80
QLS-9×500
20"
500
9.0
8-150
175
80
QLS-9×550
22"
550
9.0
8-160
175
80
QLS-9×650
26"
650
9.0
8-190
175
80
QLS-9×700
27 1/2"
700
9.0
10-205
175
80
QLS-9×750
30"
750
9.0
10-220
175
80
QLS-9×920
36 1/4"
920
9.0
10-265
175
80
QLS-9×1020
40"
1020
9.0
10-295
175
80
QLS-9×1210
47 3/4"
1210
9.0
10-340
175
80
QLS-12×650
26"
650
12.0
14-190
250
110