cable tie supplier introduction
Datetime: 10/18/2019 3:44:00 PM Visit: 1943
Company Profile
Yueqing Qiligang Plastic Co., Ltd was established in 1996, is specialized in manufactuing and selling various plastic products, such as nylon cable ties, nail cable clips, expandnails, nylon cable glands, witing ducts, tube pre-insulating terminals, cable markers, safety-type wire joints, screw on wire co-nnectors, spiral wrapping bands, and set pieces, as well as such metal products as tube nude terminals and copper tube terminals and so on. We have self R&D Team. We can accept constructing plastic mould task if you have special design.
Phone: +86-577-62658186
Fax: +86-577-62658185
Email: sales@qiligang.com
Product Description
Description: Stainless steel cable ties is the most effective way of securing cable and pipe.They can be used in virtually all in door,out door,heavy industrial and underground applications.Heat resisting, erosion control, indulating well and not apt to age.
Features:
1.Unique self-locking mechanism allows easy and quick operation.
2.High tensile strength
3.Non-flammable
Lock Type: ball lock L type buckle
Operating Temperature:100℃ ~ 500℃
Color:Body Color or PVC black
Packing:100pcs/polybag(general export packing)
Remark: we have 4.6mm width series,and 8mm width series.the length cab be cut at any length.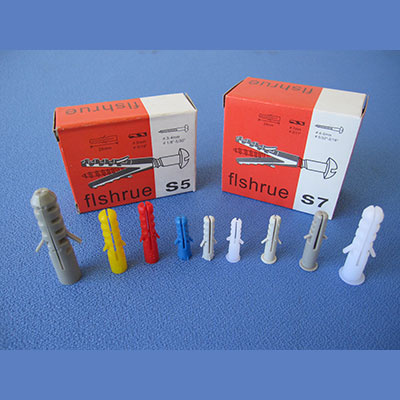 Expand Nail is made of PE.PE is a thermoplastic resin obtained by polymerizing ethylene.Industrially, copolymers of ethylene and a small amount of an α-olefin are also included. Polyethylene is odorless, non-toxic, feels like wax, has excellent low temperature resistance (minimum use temperature can reach -100 ℃~-70 ℃), good chemical stability, and can resist most acid and alkali corrosion (not resistant to oxidation) Nature of acid). It is insoluble in common solvents at room temperature, has low water absorption and excellent electrical insulation.
Material: PE(white,grey),elasticity and shock resisting.
Color:white, grey, red, yellow, green, blue
Trail:drill a hole in the wall,drive it in directly.
Packing:100pcs/polybag(general export packing) or box.
Specification map