cable clips supplier
Datetime: 8/8/2019 10:28:00 AM Visit: 102
Yueqing Qiligang Plastic Co., Ltd was established in 1996, is specialized in manufactuing and selling various plastic products, such as nylon cable ties, nail cable clips, expandnails, nylon cable glands, witing ducts, tube pre-insulating terminals, cable markers, safety-type wire joints, screw on wire co-nnectors, spiral wrapping bands, and set pieces, as well as such metal products as tube nude terminals and copper tube terminals and so on. We have self R&D Team.We can accept constructing plastic mould task if you have special design.We value the Quality First.
Yueqing Qiligang Plastic CO., LTD with whole hearted to develop our business with the company all of the world, hand in hand and come to success.
Phone: +86-577-62658186
Fax: +86-577-62658185
Email: sales@qiligang.com
20mm concrete nail wire or pipe cable clips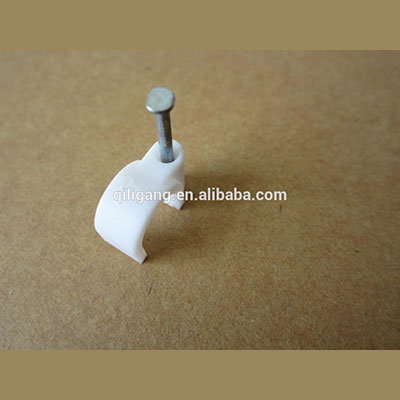 Product Description
1. material: 100% DHPE+45# CONCRETE NAIL
2. Size: 20MM, QLSH-20MM diamater=20nnm nail dia*L= 2.5×38
3. Standard: general
4. Certification: ISO9001, SGS, ROHS

Circle cable clamp plastic wall clip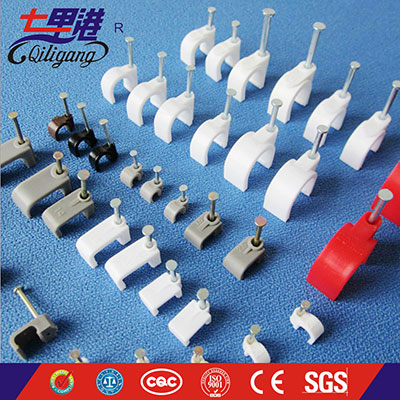 Round cable clamp for satellite and pump cables.
Material: made from PE (white,grey)
Trail: elasticity and shock resisting, inserting type,nail attached in clips
Directions: Place clip over cable and hammer nail gently,ensuringing that it is square in the cable clip.When fixing to hard brickwork,hammer the nail into a joint wherever possible to ensure a secure fitment.
Floor plan